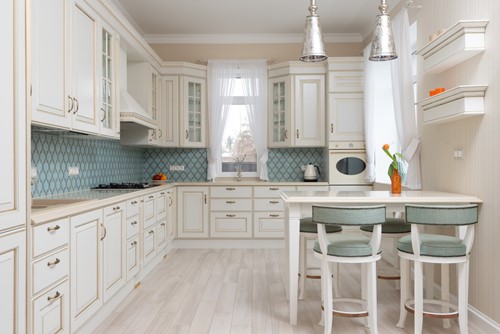 An outdated kitchen can really drag down the look and feel of your home. Unfortunately, a complete kitchen remodel can easily cost tens of thousands of dollars. If a totally new kitchen isn't quite in your budget, the good news is that you can still update and refresh your space with a few simple (and inexpensive) DIY projects.
Cabinet Repainting
Ripping out your old cabinets and installing new ones can be costly, but you'd be amazed at what a fresh coat of paint can do for your existing cabinets. If you have wooden cabinets, sanding them down and applying a fresh coat of paint or stain can give them a completely new look. Meanwhile, you'll only need to buy the paint of your choice and some accessories (brushes, painter's tape etc.). Just be aware that this project can be time-consuming, especially if you have a lot of cabinetry in your kitchen.
Swapping Out Hardware
In addition to painting your existing cabinets, swapping out dated hardware can make a huge difference in your kitchen as well. New cabinet handles and drawer knobs typically cost just a few bucks apiece, making this a relatively cheap project that can make a big impact. Meanwhile, as long as you stick with the same style of hardware, swapping these pieces out is a quick and easy project.
You can get as creative as you want with your kitchen hardware, but brushed nickel and stainless steel are both popular finish options to consider.
Simple Backsplash Install
If your kitchen doesn't already have a tile backsplash in place, you don't need to be experienced at laying tile to complete this upgrade. There are plenty of peel-and-stick tile options that are easy to install. With these, you simply cut the tile to fit your space and then peel it off of the adhesive backing. From there, it sticks seamlessly onto your existing wall with no need for grout.
Peel-and-stick tile comes in a wide range of styles, so you can achieve the look you want. From trendy subway tile to mosaic tile, you've got options to choose from.
These are just a few ideas for updating your kitchen on a tight budget by putting your DIY skills to work. These small projects can make a huge difference in the overall look and feel of your kitchen while adding resale value to your home as well!