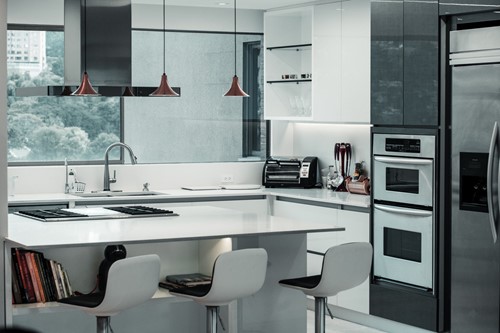 When you have a custom home, you're able to set your kitchen up in almost any way you want. While this gives you a lot of freedom during the design process, there are some common mistakes that creep up. These mistakes can make your kitchen less functional overall, which can affect your home's value and your day-to-day life. Here are the most common kitchen design mistakes to avoid:
Overlooking the Work Triangle
One basic principle of kitchen design is the work triangle, which refers to your fridge, sink and stove. You should be able to get to any part of the work triangle and move between these components with no obstruction. This helps ensure you can prepare meals, wash dishes or handle other kitchen tasks with ease. When designing your kitchen, keep in mind that the work triangle should be separate from the main foot traffic area. This helps prevent family members from getting in your way while you're trying to make dinner or do other tasks. The parts of your work triangle should also be close to each other for easy access rather than separated farther apart.
Ignoring Vertical Space
Kitchen design focuses on horizontal spaces, such as rows of cabinets and cupboards, but you shouldn't ignore vertical space. Making use of vertical space can provide you with additional storage, which can come in handy in smaller kitchens. You can have cabinets and cupboards reach all the way to the ceiling instead of leaving space above them. You might also add open shelves to the walls for extra storage space. If you have enough room, you can do a combination of open shelves and closed cabinets to maximize storage space.
Creating a Crowded Kitchen
Your kitchen should offer plenty of space for you and your family to move around easily. For example, avoid putting an island in the middle of a smaller kitchen. Even in larger kitchens, you'll still need to make sure there is enough room on either side of the island for people to walk around. If you want to offer seating in a kitchen with limited space, consider extending one end of the counter and placing a couple of stools by it.
Forgetting to Measure
Kitchens often have more features than other rooms because of cabinets and cupboards, so it's important to measure carefully. Make sure you get cabinets and cupboards in the right size for your kitchen. Having ones that are too small can throw off the look of your kitchen and reduce storage space. Having ones that are too big means they'll be taking up more wall space than needed. You might also have to either switch to smaller ones or cut back on the number of cabinets and cupboards you have. When measuring, you'll also need to make sure your appliances will fit between cabinets and cupboards.
Not Having Enough Light
Kitchens need more light than other areas in homes. When planning your kitchen design, include windows for natural light, overhead lights for added brightness and task lighting to illuminate specific areas, such as sinks or counters. Keep in mind that you can add more lighting later on if needed.