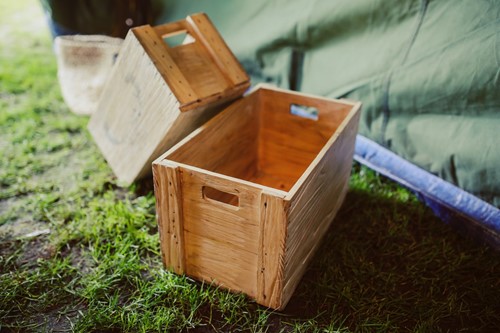 With small spaces, multi functional furniture is key. Outdoor spaces especially benefit from furniture that is versatile and serves more than one purpose. Probably the most important example is storage. There are many ways you can combine storage solutions with other furnishings, whether they be furniture or purely decorative. What's even better is that many of these furnishings you can DIY. Here we'll go over some ideas for DIY storage for your porch or patio space.
Hidden Storage Benches
One of the best ways to combine storage and furniture is with seating. Outdoor furniture gives you so many options for hidden storage seating, most of which you can build yourself. One great idea is to use a simple storage box and upcycle it into a bench or chair. All you need is a piece of foam cut to the right size and your choice of fabric. Cover the foam with the fabric to make a simple cushion and then attach it to the top of the box with velcro strips.
Now you have a bench that doubles as a storage container and opening it up won't disrupt the attached cushion. As an alternative, you can repurpose other outdoor cushions to make the bench even cozier. You can also add feet or casters to the bottom of your new bench to upgrade it from just a box to real outdoor furniture.
Storage Crate Ottomans, Tables and Stools
Wooden storage crates are perfect for multi-functional storage. By adding a cushion on top of an unfinished crate, you instantly create a rustic and cozy ottoman or stool. You can also use storage crates as table surfaces, either for drinks and dining or for displaying potted plants and other outdoor decor.
For a more upscale look, paint and finish the crates in your choice of color or wood stain. You can also add a base underneath the crate to keep it slightly off the ground. Adding feet or casters will make it easier to move around, and protect the bottom of your storage from moisture.
Bar Carts for the Porch & Patio
Bar carts are coming back into trend in interior decorating, but are also incredibly useful in outdoor spaces. Even if you don't use the bar cart for its intended purpose, what could be more convenient than a multi-tiered table on wheels? An outdoor bar cart makes an excellent addition to any outdoor kitchen or sitting area. You can also turn a bar cart into combination tool storage and potting bench.
Depending on the type of wheels your cart has, you might replace them with larger ones to make traversing outdoor spaces more smooth. Otherwise, you can customize the cart to your liking or leave it as is. Keeping storage containers on the lower shelf of the cart will make housing smaller items easier and more convenient. Try it for gardening tools or small children's toys as a mobile surface and space-saver.
These ideas are perfect for DIY enthusiasts and beginners alike. However, these are only a few of the ways you can combine storage with other furniture purposes. By creating multi-functional furnishings for your outdoor space, you leave more room for actually living in it.